Internship
Please note USD / Year
Minimale duur: 3 months
Niveau: MBO, HBO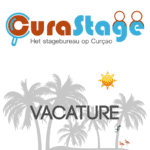 Register CuraStage
CuraStage - the internship agency on Curaçao
Are you looking forward to a super cool internship? We are looking for an intern to help us run our businesses on dushi Curaçao!
---
What are you going to do:
blogging
Keeping up with social media but also creating new ones;
Take photos and videos
Speaking to customers
Calling companies for an appointment
Promote our companies
---
We are looking for someone:
Who is driven to learn and wants to work hard, but after the hard work also joins a drink to end the day
With creative mind with sky is the limit mentality
Strong communicator and likes to chat with people
Who can work independently and also see work
Who speaks Dutch and English
Who has computer skills and can also edit photos and videos is an advantage
With a driving license B
---
What we offer you:
We are passionate entrepreneurs on the beautiful island of Curaçao and have several companies. This also makes it super fun for you because you can help with every company! We do not employ permanent staff, so we pay a lot of attention to you and take you on a pleasant journey. We think it's important that you learn a lot. In terms of education, we have no specific requirements, as long as you meet the above points.
To Curacao? Register without obligation!
do you want to go do an internship or work in Curaçao Are you interested in our services? Then sign up without charge in at CuraStage.
We will always contact you within one working day after receiving your registration free Teams conversation to schedule. In this we already discuss your wishes, any questions and the necessary steps for your period on Curaçao.