Internship
N.l.k. USD / Year
Minimale duur: 3 months
Niveau: MBO, HBO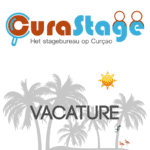 Register CuraStage
CuraStage - the internship agency on Curaçao
Are you ready for a fun new challenge? Then come to Curaçao to do an internship and apply for this vacancy.
---
This company is often looking for enthusiastic, enterprising interns. In consultation, we look at where you can best support us - with your talents and experience. With this you can think of:
Social media monitoring and analysis (Facebook and Instagram mn)
Support at events
Writing / editing texts (such as news items and interviews)
---
This is a collaborative internship. But, in consultation, a research internship is also possible. We also invite people with a completed education who are looking for a job to apply; a great opportunity to gain work experience!
To Curacao? Register without obligation!
do you want to go do an internship or work in Curaçao Are you interested in our services? Then sign up without charge in at CuraStage.
We will always contact you within one working day after receiving your registration free Teams conversation to schedule. In this we already discuss your wishes, any questions and the necessary steps for your period on Curaçao.