Internship
USD 500 / Year
Minimale duur: 3 months
Niveau: MBO, HBO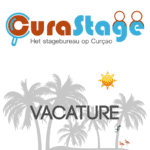 Register CuraStage
CuraStage - the internship agency on Curaçao
Is hotel life written on your stomach? Then this vacancy is for you!
---
At this hotel we think it is important that our guests feel at home. As a Front Office employee you, together with your colleagues, are the first point of contact and therefore our business card! Welcoming and assisting guests is part of your daily work. Because we are a small hotel, your work is very diverse. In addition to checking in and out, you are also responsible for processing incoming reservations, various other administrative tasks and managing Housekeeping.
---
Tasks
Checking in and out of hotel guests in a warm and professional manner
Welcoming, providing service and providing information to guests (including by telephone) at a high service level
Managing the housekeeping team (communication is very important here, taking into account the cultural diversity)
Getting the most out of turnover through upselling (concept store, restaurant and activities)
Online reputation of the hotel via Tripadvisor and Online Travel Agents
---
We offer you
A challenging internship with a lot of responsibility
A unique experience in a top team that works with pride and enthusiasm
You share, just like all your colleagues
---
Job requirements
We are looking for an intern with a passion for hospitality and service. Finding the right combination between service, personal attention and professionalism is essential.
You follow a service-oriented training, in which guests are central
You have a good command of the Dutch and English language
You are flexible in your working hours (morning, afternoon or evening, weekends and holidays)
Work experience in the hospitality industry is a plus, but we think it is especially important that you are open to learning things and that you want to do everything you can to make our guests happy.
You are representative, communicative and socially skilled
You are accurate, have a sense of quality and an eye for detail
Hospitality, a sense of commerce and resistance to stress are self-evident for you!
To Curacao? Register without obligation!
do you want to go do an internship or work in Curaçao Are you interested in our services? Then sign up without charge in at CuraStage.
We will always contact you within one working day after receiving your registration free Teams conversation to schedule. In this we already discuss your wishes, any questions and the necessary steps for your period on Curaçao.