Internship
Please note USD / Year
Minimale duur: 3 months
Niveau: HBO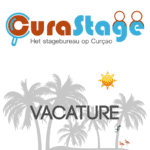 Register CuraStage
CuraStage - the internship agency on Curaçao
Do you want to learn everything about recruiting and do you want to gain experience in it? Then go for this super fun vacancy!
---
Job description
In your role you are responsible, together with the other colleagues, for (pro)actively approaching suitable candidates for our clients. It is important that you learn which paths to take to find these candidates and to interest them in the vacancies of our clients. You do all this on behalf of our clients. Your commitment, knowledge and skills ensure that we find the best candidates in the shortest possible time.
---
Tasks
You handle incoming applications and ensure, among other things, that all applicants receive a response about the progress of the procedure within the set time limit. You work closely with the other recruiters and support where necessary with existing customers, but also new customers and upcoming projects.
You search online for the best candidates for the vacancies of our clients. You do this by using the various databases of the job boards and social media. You are therefore actively (pro)actively searching and approaching candidates on a daily basis.
On the basis of the applications received, you make a first selection and you are responsible for conducting telephone interviews. On the basis of this, you determine, in consultation with your supervisor, which candidates will be invited for an interview with the client and schedule this. You will keep in touch with the candidates about the progress throughout the application procedure.
To Curacao? Register without obligation!
do you want to go do an internship or work in Curaçao Are you interested in our services? Then sign up without charge in at CuraStage.
We will always contact you within one working day after receiving your registration free Teams conversation to schedule. In this we already discuss your wishes, any questions and the necessary steps for your period on Curaçao.