Internship
N.l.k. USD / Year
Minimale duur: 3 months
Niveau: MBO, HBO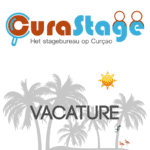 Register CuraStage
CuraStage - the internship agency on Curaçao
Do you want to do an internship on Curaçao at a childcare center for a few months? Then this is your chance because we have several vacancies!
---
We are looking for:
MBO or HBO-oriented training for working in a childcare facility
Do you have a strong sense of responsibility and are you socially skilled?
Do you like to work on your own development?
You have a heart for children
You are easy to talk to, you are flexible and you like to learn
You stand firm, you are patient but you also clearly set boundaries
---
Because working in childcare is very diverse and there are different age groups, you can indicate your preference during the introductory meeting!

To Curacao? Register without obligation!
do you want to go do an internship or work in Curaçao Are you interested in our services? Then sign up without charge in at CuraStage.
We will always contact you within one working day after receiving your registration free Teams conversation to schedule. In this we already discuss your wishes, any questions and the necessary steps for your period on Curaçao.