Internship
1000 USD / Year
Minimale duur: 3 months
Niveau: HBO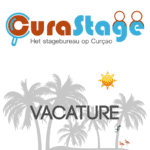 Register CuraStage
CuraStage - the internship agency on Curaçao
Are you doing a course in the direction of HR, Marketing and Communication? For a company on Curacao with multiple locations around the world, we are looking for an inquisitive intern who knows how to get things done and enjoys working in a young team.
---
What are you going to do?
As an intern in the online recruitment department, you are the point of contact for candidates who have registered for the position via social media channels; ?ambassador? in the Netherlands. As an online recruiter, you qualify these candidates according to a profile via WhatsApp, e-mail and telephone. If the candidate meets the requirements of the desired profile, schedule a physical job interview at one of our branches in the Netherlands, Belgium or Germany. As an online recruiter you have contact with both the candidate and the location manager and during the application process you keep this contact warm on both sides. The site manager conducts the interview at the site.
---
What are we looking for:
You have an HBO working and thinking level
You have excellent communication skills in word and writing
You have an excellent command of the Dutch language
You can work well independently and in a structured way
You are a good listener and have empathy
You have a sense of responsibility
You are proactive, results and ?candidate? focused
You value team spirit
Pre: commercial skills
Pre: experience in a similar position
---
We offer you
A challenging internship with a lot of responsibility, you are expected to be able to participate in the company. You will receive good guidance during your internship. During your internship you will also have the opportunity to work on school assignments, and to carry them out if necessary.
Register at CuraStage if you want to apply for this vacancy. curastage.com.
To Curacao? Register without obligation!
do you want to go do an internship or work in Curaçao Are you interested in our services? Then sign up without charge in at CuraStage.
We will always contact you within one working day after receiving your registration free Teams conversation to schedule. In this we already discuss your wishes, any questions and the necessary steps for your period on Curaçao.