Internship
150 USD / Year
Minimale duur: 3 months
Niveau: MBO, HBO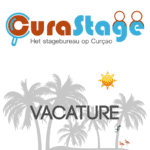 Register CuraStage
CuraStage - the internship agency on Curaçao
Are you an enthusiastic pedagogical employee in training? We are looking for pedagogical employees for various daycare centers in Curaçao!
---
What are you going to do?
As a trainee pedagogical employee, you take care of household and caring tasks. You ensure that the children grow up, develop and play in a safe environment. You offer the children a listening ear. You plan and organize fun activities for the children. As a trainee pedagogical employee you also maintain contact with parents / caregivers.
---
What are we looking for?
MBO or HBO-oriented training for working in a childcare facility
Do you have a strong sense of responsibility and are you socially skilled?
Do you like to work on your own development?
You have a heart for children
You are easy to chat with, you are flexible and you like to learn
You stand firm in your shoes, you are patient but also clearly indicate your limits
---
We offer you?
A challenging internship at a fun daycare center on Curaçao. You will be responsible for guiding the children. You will be able to develop well by learning from the pedagogical staff around you.
To Curacao? Register without obligation!
do you want to go do an internship or work in Curaçao Are you interested in our services? Then sign up without charge in at CuraStage.
We will always contact you within one working day after receiving your registration free Teams conversation to schedule. In this we already discuss your wishes, any questions and the necessary steps for your period on Curaçao.