Internship
Minimale duur: 5 months
Niveau: HBO, WO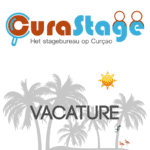 Register CuraStage
CuraStage - the internship agency on Curaçao
Are you a PABO student with a preference for teaching mathematics or in training to become a mathematics teacher? Are you enthusiastic about the classroom? Is the student at the center of your attention? Then this is your chance!
---
We are looking for enthusiastic interns for the subject Mathematics. Do you have a passion for teaching? Do you want to do an internship in a warm and cozy team? Do you want to develop during your internship? Then this internship is made for you!
---
Job description
As an intern maths teacher, you work with a maths teacher. You prepare lessons and activities for the students. You teach mathematics in secondary education. You pass on subject matter knowledge to the students. You provide extra guidance to the students if necessary.
---
Job requirements
You have good communication skills
You encourage the students
You are a team player
You are social
Register at CuraStage if you want to apply for this vacancy. curastage.com.
To Curacao? Register without obligation!
do you want to go do an internship or work in Curaçao Are you interested in our services? Then sign up without charge in at CuraStage.
We will always contact you within one working day after receiving your registration free Teams conversation to schedule. In this we already discuss your wishes, any questions and the necessary steps for your period on Curaçao.